Policies
Please review our policies below prior to reserving your vehicle.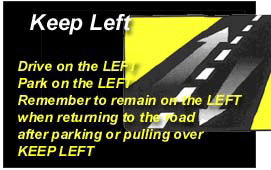 10 mph in and around town
20 maximum speed limit in the country
IT IS ILLEGAL TO DRIVE ON THE BEACH
Cancellations can be made 24 hours prior to pickup with no penalty, a penalty fee of one day's rental applies for cancellation less than 24 hrs notice. Cancellation must be made via fax or email only.
YOU MUST BE 26 YEARS OR OLDER IN ORDER TO RENT AND/OR OPERATE THE VEHICLES.
PROOF OF INSURANCE COVERAGE REQUIRED FOR ALL DRIVERS.
In the event the vehicle is damaged to the extent that it cannot be immediately rented to others, Renter agrees to pay the balance of the agreed upon rental period.
Rental vehicle will be provided with gas.  Renter is required to return the vehicle with the same amount of gas.  If Renter returns the vehicle with less gas than when the vehicle was first rented, then

 

Renter will be charged for the amount of gas needed to refill the tank, plus a service charge of $20.00.
Renter agrees not to remove the vehicle's top. Renter is subject to a fee of $500.00 per panel if top is removed.
Vehicle windows and the sunroof must be closed at night.  St John experiences heavy rains routinely during the nighttime.  If the sides are removed, they must be replaced.
St. John's beautiful beaches are here for everyone's enjoyment.  Please try to leave the sand at the beach.  Rinse off your feet and all articles before entering the vehicle. There will be a full day cleaning charge for a vehicle returned with an excessive amount of sand and/or wet seats.  O'Connor Rentals, Inc. reserves the right to determine what is an excessive amount of sand.
THE VEHICLE MUST NOT LEAVE THE ISLAND OF ST. JOHN.  OVERSEAS TRANSIT IS PROHIBITED.
Renter agrees not to drive on unpaved roads.
If the vehicle is involved in an accident, the Renter and/or the operator agrees to make a report to the police and submit a copy of the police report to O'Connor Rentals, Inc.
This is a contract for rental only.  Renter agrees that the vehicle is the property of O'Connor Rentals, Inc.; that the Renter has examined the vehicle and that it is in good condition and that it will be returned immediately if any item is not functioning normally.  Renter agrees to promptly pay all charges that accrue because of this rental, including damages to the vehicle, if any.  If Renter fails to to return the vehicle at the agreed time and date, or fails to abide by any terms of this agreement, Renter agrees that O'Connor Rentals, Inc. may repossess the vehicle without notice and O'Connor Rentals, Inc. is further released from any and all claims arising therefrom.  All charges are based upon the time that the vehicle is in the possession of Renter whether or not in use.
PAYMENT IN FULL IS DUE UPON RETURN OF THE VEHICLE.
PROOF OF INSURANCE COVERAGE REQUIRED FOR ALL DRIVERS
Additional Rental Fees are:
(a) Lost Keys: $250.00 + Transportation Fee
(b) Additional Driver: $10.00
(c) Removal of top will result in a $500 fee per panel
(d) Excessive trash or sand in vehicle will result in a fine of $75 and up.
ANY ANIMAL IN THE VEHICLE IS STRICTLY PROHIBITED.
All vehicles are equipped with a spare tire and jack. If you call O'Connor Rentals, Inc. to change a flat tire, there may be a transportation fee.  Should you have a mechanical problem with the vehicle, please call the rental office immediately.  No repairs may be done to the vehicle without prior authorization from O'Connor Rentals, Inc.
Please allow yourself at least two hours prior to departure for checking in the vehicle.
O'Connor Rentals, Inc. is not responsible for any personal articles left in the vehicle, either during the rental or after the vehicle is returned.
Renter is responsible for all parking fines and traffic violations.  Please pay these directly.  If processed by O'Connor Rentals, Inc., a service charge will be added to the cost of the fine.
Renter hereby authorizes O'Connor Rentals, Inc. to charge all costs, damages and/or fines not paid at the time the vehicle is returned to Renter's charge account.